Pavle.com.au has done it again, this time with Australian exclusive spy photos of the next generation 2014 Holden VF Commodore.
While little it known at this stage about the car and engines we can expect, we know for certain the first vehicle pictured is an entry level Omega. The second vehicle is an SV6 or SS variant.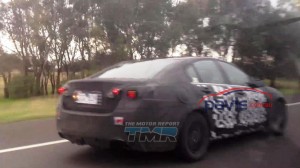 Sources inside Holden suggest that the Australian car maker is attempting to stylize the VF Commodore with LED running lights and other cosmetic bling.
We know that the car will feature light weight aluminium construction around the front end, along with electric steering. The car is also likely to pick up blind spot monitors and keyless entry and start.
In the mean time, head to The Motor Report, who have exclusive rights to the video.
Filed under: Holden, spy photos, VF Commodore on August 17th, 2012