Originally planned for a July 1st launch, Ford has delayed the announcement and introduction of its supercharged V8 products.
As first revealed by Pavle.com.au in June, 2009, Ford planned to have a locally modified variant of the 5.0-litre V8 engine codenamed the Coyote from the American Mustang ready for the Euro IV emissions deadline of July 1st, 2010.

Last week Ford made an announcement regarding its six cylinder products, making specific mention of the V8 variants in their press release:
Falcon XR8 sedan and Ute models are not part of this Euro IV upgrade for the FG Falcon range. Details regarding plans for the iconic XR8 nameplate will be revealed at a later date.
Insider sources have informed Pavle.com.au that engineers are having considerable problems with the current drivetrain. The drivetrain is unable to cope with the added power and torque produced by the supercharged engine.

Industry publication, GoAuto also seems to have jumped the gun regarding information obtained from the Department of Transport. The information, initially added to the DOT website is around four months old, produced prior to the issues encountered by the engineers.
Insider sources have also confirmed the originally planned power output figures for the supercharged project, here they are:
Ford Falcon XR8

5.0-litre Supercharged V8 (Coyote)
315kW @ 6500rpm

Ford Falcon GT/GT-E/GT-P

5.0-litre Supercharged V8 (Coyote)
330kW @ 6600rpm

Ford Falcon GT-H

5.0-litre Supercharged V8 (Coyote)
351kW @ 6850rpm
The proposed GT-H does away with fog lights and uses induction ports for the supercharger. Sources have suggested LED driving lamps would be used in place of fog lights, similar to those fitted to the HSV E2 Series.
While tyre width is still unclear and an issue that continuously dogs Ford's performance arm, a source has suggested tyre widths will remain unchanged, despite the significant power upgrades.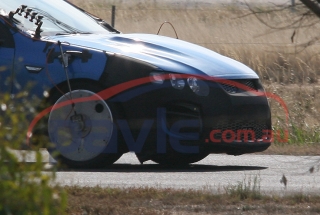 It is unclear when Ford plans to release more information regarding the Coyote supercharged V8 project. As it stands, Ford can no longer produce or sell any non Euro IV compliant vehicles beyond the June 30th cut-off date.
The design will remain predominantly unchanged, with only wheels being shuffled around the FPV range. Expect the 5th Anniversary FPV GT wheels to make their way to either the GT-P or GT-E.
Pavle.com.au will keep you up to date with information as it comes to hand. If the delays continue, it could mean reduction in power outputs to allow the system to cope with the strain. You can check out photos and audio of the 2010 FPV GT-H here.
Filed under: Car Company News, Ford, spy photos on April 13th, 2010