With the whole world falling over in economic hardship, Mitsubishi Motors Australia Limited (MMAL) is set to release a lightweight version of its race-bred Japanese sports car, the Evolution X.
While the name is yet to be nutted out, it may carry Ralliart insignia and be marketed toward people who want to use the car solely for racing purposes, while still being able to drive the vehicle on the road.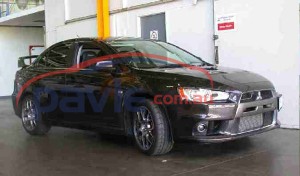 Powered by the same four-cylinder, 2.0-litre turbocharged engine, it's set to produce 217kW at 6000rpm and remain available with either the five-speed manual gearbox for the six-speed dual-clutch gearbox.
While the lightest Evolution X currently weighs in at 1,532kg, the lightweight Evolution X is set to slash weight by almost 100kg, seeing the vehicle tip the scales at just 1,457kg.
Mitsubishi has shed the weight by removing features such as ABS brakes and air conditioning. In addition, Mitsubishi engineers have removed side and curtain airbags, along with front fog lamps. The lightweight Evolution will also miss out on the Xenon headlight option, along with the sunroof, leaving weight as trim as possible.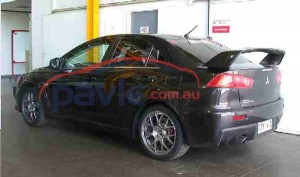 While ground clearance remains the same – 140mm – the overall length of the car has been reduced by some 5mm.
Although Mitsubishi doesn't plan on selling the lightweight Evolution X as a mainstream source of sales, they are sure to be snapped up by racers who want the racing edge.
Pricing is expected to be around $65,000-$75,000.
Filed under: Mitsubishi, spy photos on September 15th, 2009